Nasberry at Idle Awhile
Jamaica
Planning Early: Summer Vacation Ideas for 2022
It may be back-to-school season, but it is never too early to start planning next summer's travels. We've highlighted our top summer vacation spots (with villas to match) for some inspiration to help you get started.
2021-08-30
It may be back-to-school season, but it is never too early to start planning next summer's travels. We've highlighted our top summer vacation spots (with villas to match) for some inspiration to help you get started.
From the Duomo of Florence to the famous wine country of Chianti, Tuscany offers culture, history, food, and wine that is unlike anywhere else in the world. It's no surprise, then, that this central Italian region repeatedly ranks as one of the top destinations for summer travel. And while summer is the busiest time to visit Italy, you can break away from the crowds and carve out your own piece of paradise when you stay in a private villa. With postcard scenery and luxury amenities, our villas are the perfect places to call home after a day of wine tasting and sightseeing.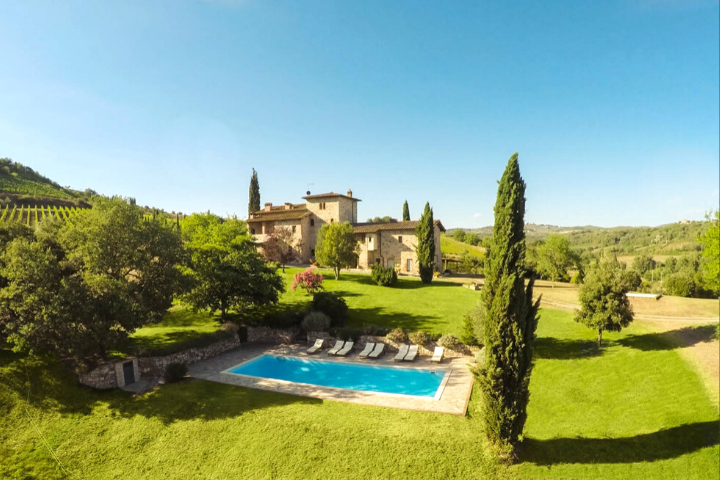 Cipresso:
Located in one of Chianti's stunning wine-producing estates, this seven-bedroom, restored 13th-century villa is the epitome of classic Italy. Make the most of Italy's long summer days with a swim in the private pool and enjoy proximity to cities like Siena and Tuscany's famous medieval villages.
The Friendliest Island in the Caribbean has something for everyone: incredible beaches, world-class golf, natural wonders, and an overall carefree feeling that keeps visitors returning again and again. Each villa is fully staffed with a chef or cook, butler service, and housekeeping – meaning you don't have to worry about anything except enjoying your vacation. Jamaica is a dream destination for the whole family, as many villas accommodate mobility options and child-friendly amenities. The small, vibrant country also attracts travelers of all kinds, from the adventurer who wants to climb 600-foot Dunn's River Falls to the sun worshipper who soaks in the sun from the poolside. For these reasons and so many more, Jamaica is a fan favorite among travelers.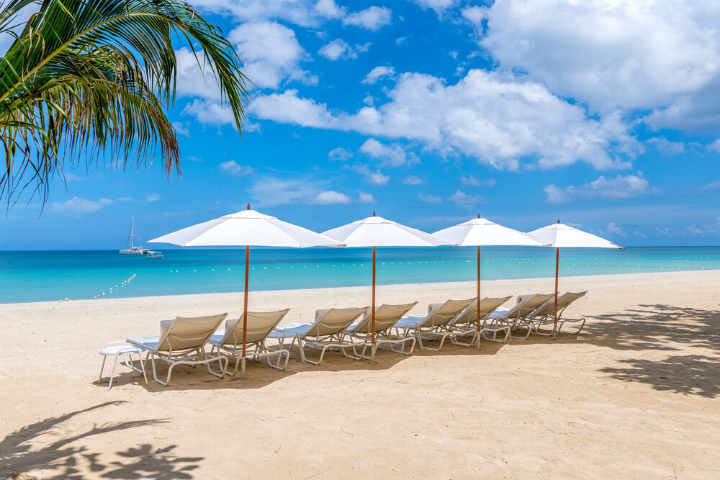 Naseberry at Idle Awhile:
Welcome to your dream ocean escape. Naseberry Villa, part of the Idle Awhile group of villas, is located just steps from a private stretch of Negril's famous Seven Mile Beach. This 3-bedroom villa feels brand new but with complimentary water sports, beckoning Caribbean seas, and beachfront hammocks, the outdoor space is the main attraction.
For a European getaway that provides Italian charm, world-class cuisine, and Mediterranean beaches, travelers seek out the Amalfi Coast. This region of Campania is so beautiful that it was named a UNESCO World Heritage Site. Positano is one of the most recognizable villages in the region, but there are plenty of picturesque cliffside towns that compete in beauty. Relax on the pebbled beaches, explore the landscape on countless hiking trails, or peruse quaint cafes and shops on narrow Italian streets.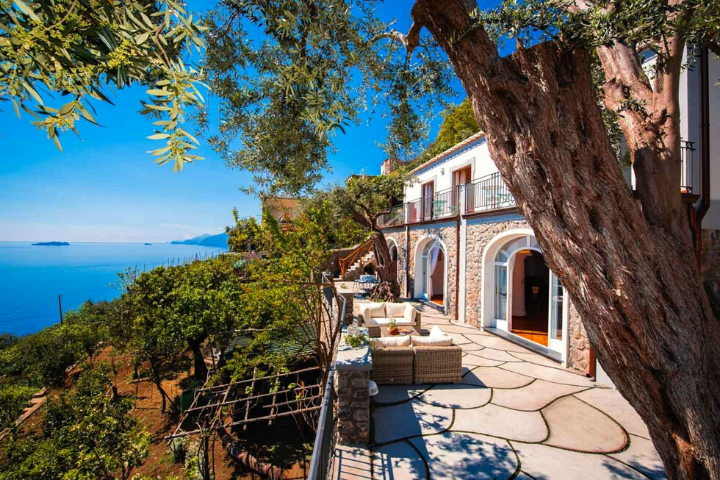 Ambita:
The scenery of Ambita Villa is breathtaking. Located 1.5 miles from the center of Positano and a 3-minute drive from the nearest beach, Ambita offers the feeling of peaceful seclusion without being isolated. Soak in the sea breeze and watch the sunset over the Mediterranean from the expansive terrace, which overlooks a garden of olive and lemon trees.
Florida boasts some of the country's best beaches, but it is Walt Disney World that attracts many summer travelers. For children and adults, dreams really do come true in Orlando. Hotel options can be overwhelming and impersonal, which is what makes staying in a villa in Orlando so enticing. Not only do you get your own personal space to unwind after a day of theme park adventures, but some villas keep the entertainment coming in the form of private theater rooms, themed bedrooms, pools, and access to world-renowned golf courses.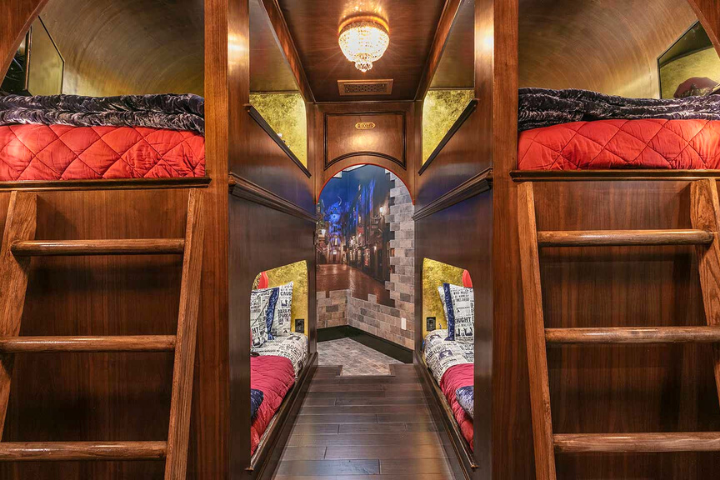 Imagination at Reunion Resort:
The only thing that competes with stepping into The Wizarding World of Harry Potter is sleeping in The Hogwarts Express. At Imagination at Reunion Resort, your child (or Harry Potter fan of any age) can keep their dreams going even after leaving the theme park. This 8-bedroom villa includes a pool, superhero-themed game room, home theater, themed bedrooms, and stunning modern amenities. It is also located within Reunion Resort, only twelve minutes to Walt Disney World, and comes with various perks like shuttle services, access to water parks, pools, and signature PGA Golf Courses.
Turks and Caicos is a true summer island getaway. Of over 40 islands, only 8 are inhabited, making even your luxury villa stay feel authentic and off the beaten path. White-sand beaches and turquoise waters offer the ideal relaxing vacation, while activities like snorkeling, hiking, and horseback riding allow you to explore the natural wonders of the islands.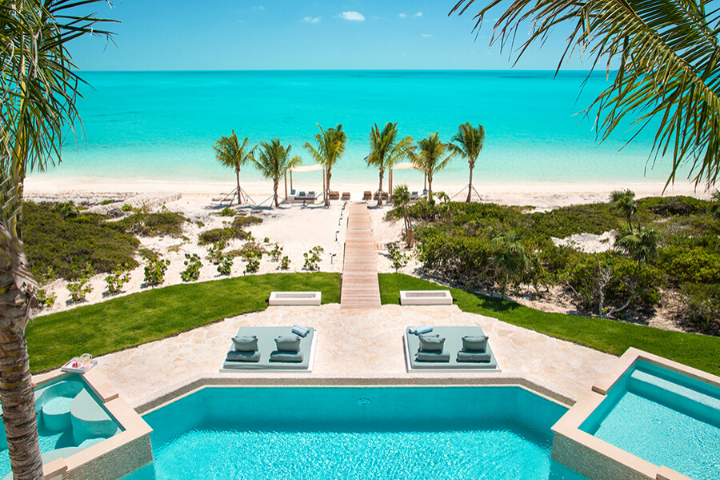 Pearl West:
Pearl West Villa is located on the island of Providenciales, or Provo, home to the well-known Grace Bay Beach. This 8-bedroom villa is built for luxury. There are two private pools, a jacuzzi, a hot tub, and access to the stunning Long Bay Beach. As part of Long Bay Estate, guests of Pearl West Villa enjoy state-of-the-art workout gyms, tennis courts, and saunas.