We Just Got Back from Anguilla
We share our experience of this stunning island destination, plus some of our favorite villas.
2022-10-10
Our team just back from Anguilla, and we're sharing their insight on the island, villas, restaurants, and more. Dive into this award-winning destination that boasts white-sand beaches and some of the finest cuisines in the Caribbean - with the quiet and privacy of feeling like a private island retreat.
About The Island
How do you get there?
You can fly from Miami directly to Anguilla, or fly from major hubs to St. Martin. From St. Martin, you can either fly Anguilla Air to the island or travel by boat.
What is the best beach?
The best beach is Maundays Bay. It has won numerous awards and it's easy to see why, with its pristine, turquoise water and white-sand beach. You access Maundays Bay through the luxury Belmond Hotel: Cap Juluca. In our opinion, though, Meads Bay is the best-located beach on the island. It also has many beachfront restaurants to choose from, such as Jacala, Leon's, and Blanchard's. We had lunch at Blanchard's beach shack more than once - the seafood is fresh and the chunky gazpacho was one of our favorites. 
Tell us more about dining. Which restaurants would you recommend?
Veya Restaurant is well-located, about a 15-minute drive from the featured villas below. It's unique in its treehouse-like design, where you can enjoy excellent fresh fish and Caribbean fare on the second-floor wraparound porch, surrounded by twinkling lights and lush gardens. Please note, this restaurant is not accessible to travelers with mobility issues.
The restaurants at the Belmond Hotel: Cap Juluca are also fantastic. Pimms offers fresh, fine dining right on the waterfront. Uchu specializes in Peruvian cuisine and Cip's by Cipriani serves delicious Italian food. You can't go wrong with any of the three, although Pimms is most known for its incredible location. For scenic drinks, head to the Four Seasons Resort. The bar overlooks the ocean and is a very romantic setting.
Of course, no villa stay in Anguilla is complete without at least one chef-prepared meal. Anguilla is home to many talented chefs, and there's nothing better than enjoying your favorite dish - or a new favorite - from the comfort of your villa, with your family and friends.
How do you get around on the island?
Taxis can be expensive because they charge per person. If you're planning to travel around the island, rent a car or negotiate a lower taxi price before you go.
What is there to do in Anguilla?
Sailing and snorkeling are popular, and you can take day trips to St. Martin and St. Barths for dining, shopping, and more. The championship course at Aurora International Golf Club was recently redesigned; we did not get there but it looks great. Overall, Anguilla is a place where people go to chill. And chill we did.
Featured Villas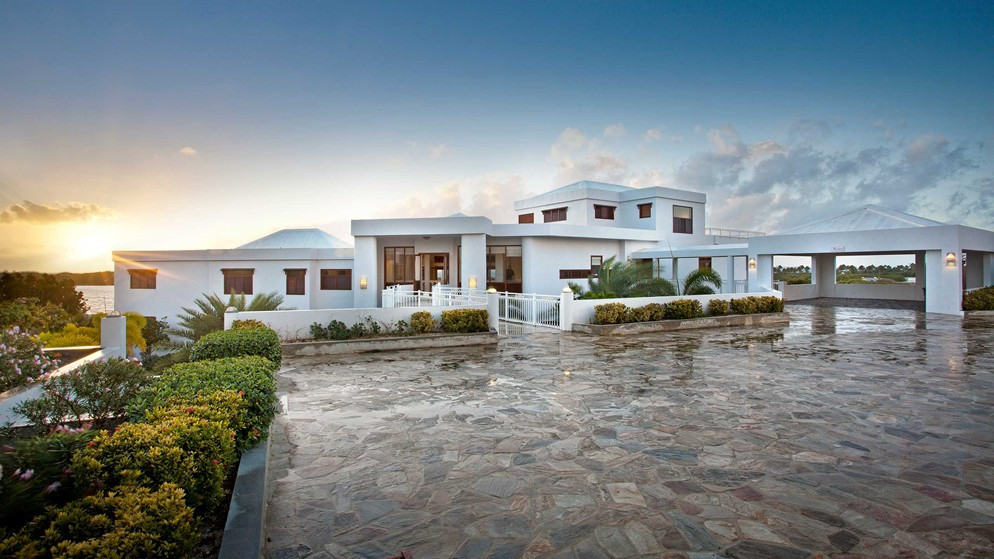 6 bedrooms / up to 14 guests
Mystique might only have six bedrooms, but it's reputed to be the largest villa on the island at 21,000 square feet. It has five grand suites, a separate garden suite, three pools, and a full gym. Guests staying at Mystique will enjoy laundry service, a private golf cart for trips to Maundays Bay (only two minutes away), and access to the restaurants and amenities of Cap Juluca. But some of the best moments might just be relaxing in one of the private pools, overlooking views of the Caribbean Sea and St. Martin.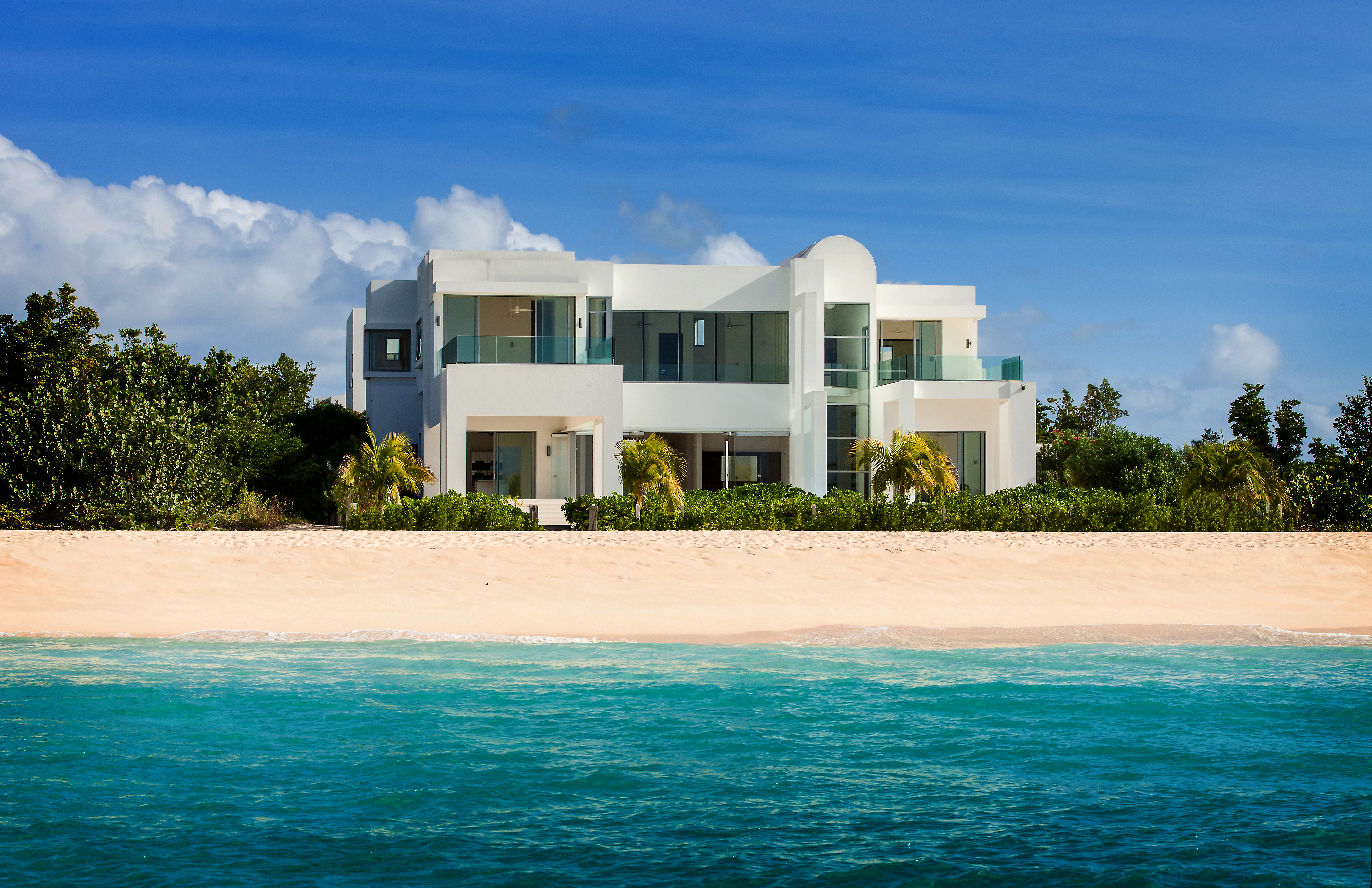 8 bedrooms / up to 16 guests
This beachfront villa is a modern masterpiece. The design is sleek and clean, and floor-to-ceiling windows allow guests to admire ocean views throughout the villa. There are over a dozen outdoor deck and lounge areas for relaxation - or if you're looking to stay active, the villa has its own tennis court and fitness room. At night, wind down with movies in the home theater. The dedicated staff includes a full-time chef, butler service, night security, housekeeping, and more. And with kayaks, paddle boards, and snorkeling equipment at your disposal, there's never a dull moment in this stunning villa.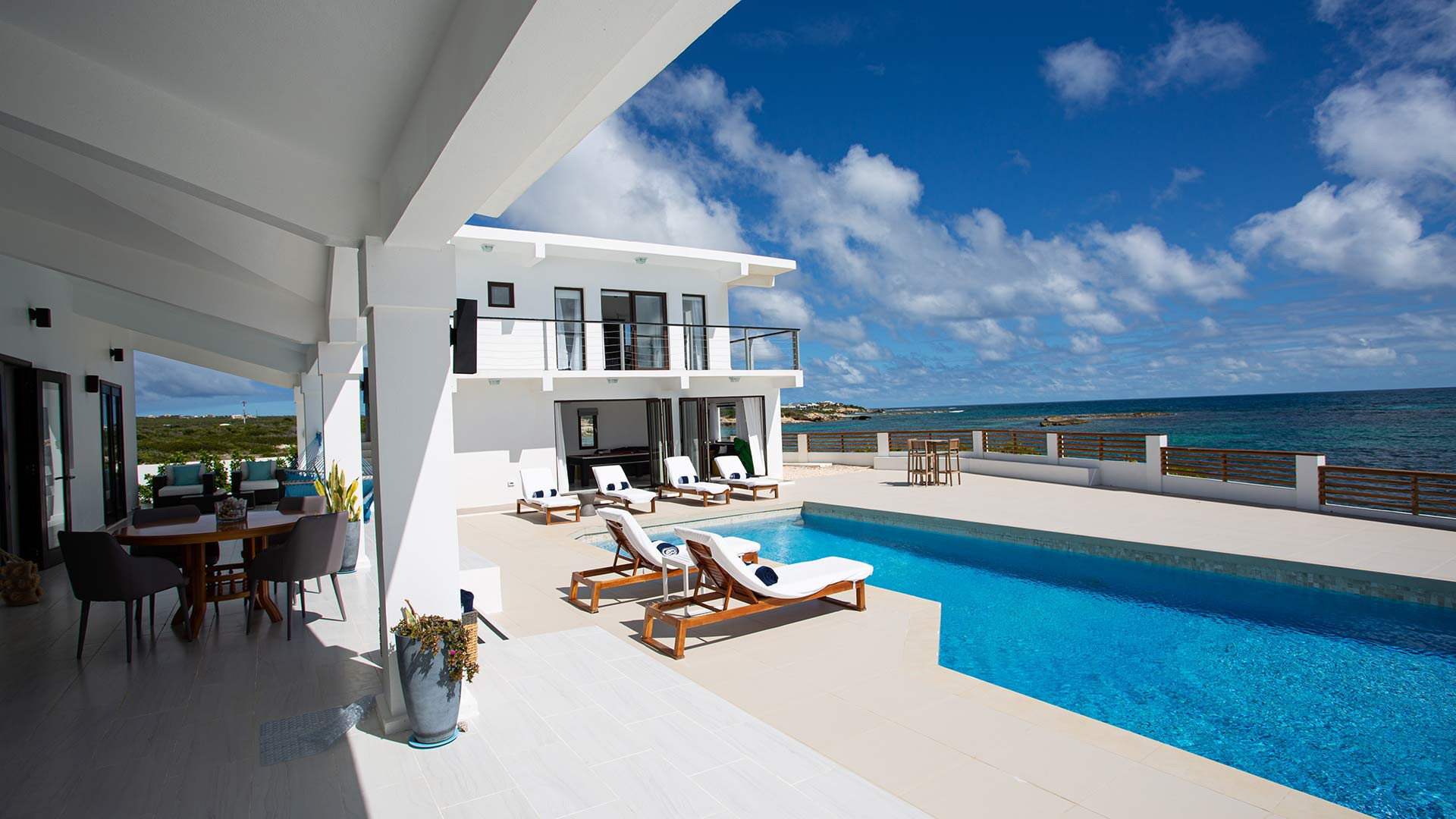 4 bedrooms / up to 8 guests
The palm-lined walkway is a perfect entrance to this oceanfront villa. The main house has three bedrooms and a fourth bedroom is in the private poolside guest house. The newly remodeled villa features clean, white interiors that are lightly accented to let the breathtaking sea views take center stage. You might relax in the heated pool or hammock, or walk to nearby Blowing Point Beach.